A little bit about the Bogtrotters
Hello our club is an easygoing ( with decent hikes!) hillwalking club based in Dublin that walks every Sunday and on Tuesday nights during the Summer and early Autumn months.
Origins of the Bogtrotters
We meet at the Rosemount Car Park – Marian Road (Ballyroan Church & Supervalu Car Park) in Rathfarnham, South Dublin every Sunday morning.
We try to organise at least two weekend club trips to Irish mountains a bit further away than Wicklow. For the past few years we have also organised a club trip abroad in early summer.
We are a small club with about 80 members and each walk sees about 8 to 20 people take part on a members walk mainly in Wicklow and Dublin.
Bogtrotters club is affiliated to Mountaineering Ireland and all club members are members of MI. Among the benefit of MI membership is insurance which is necessary as a member. The other benefits are explained on the New Members page.
It is open to all people who have the necessary level of fitness and appropriate clothing.
You must contact the club secretary (secretary@bogtrotters.ie) to see when the next introductory Grade 3 walk is on. Please note that places are limited.
Meeting time is at 8.45am at Rosemount Car Park – Marian Road (Ballyroan Church & Supervalu Car Park) leaving at 09.00am or quite often an hour later (9.45 am, leaving 10.00 am) for Grade 3 walks.
You must read the new members page before joining the walk.
Please note we can only cater for 10 new people on this walk so first come etc. Please contact the club secretary to be put on the list and let us know if you cannot make it.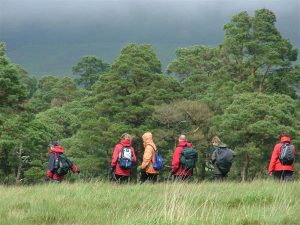 The Bogtrotters Hillwalking club was born out of members in the Dublin Adventure Club