Welcome to the Bogtrotters Hillwalking Club
The club is an easygoing hillwalking club based in Dublin that walks every Sunday and on Tuesday nights during the Summer and early Autumn months.
We meet at the Rosemount Car Park – Marian Road (Ballyroan Church & Supervalu Car Park) in Rathfarnham, South Dublin every Sunday morning.
We try to organise at least two weekend club trips to Irish mountains a bit further away than Wicklow. For the past few years we have also organised a club trip abroad in early summer.
We are a small club with about 80 members and each walk sees about 8 to 20 people take part on a members walk mainly in Wicklow and Dublin.
For more about us and the club see the about us page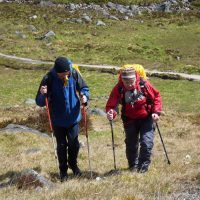 Bogtrotters 10 Year Anniversary Video Rediscovered!
The Bogtrotters Club which was born out of the Dublin Adventure Club is now over 20 years old. For our 10th Anniversary club member Bénédicte and her brother produced this lovely video which is a great memory of some lovely club days.
Just click on the image to play and enjoy.